Extravaganza $100,000 Guaranteed
$100,000 Guaranteed Prize Pool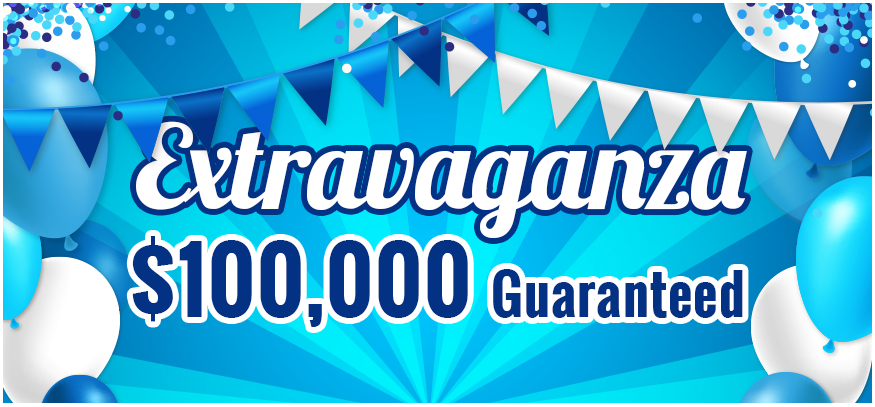 Day 1a: Saturday December 17th, 10:00am (Turbo)
Day 1b: Saturday December 17th, 1:00pm
Day 1c: Saturday December 17th, 4:00pm
Day 1d: Saturday December 17th, 7:00pm
Day 1e: Saturday December 17th, 10:00pm (Turbo)
Day 1f: Sunday December 18th, 10:00am (Turbo)
Day 1g: Sunday December 18th, 1:00pm
Day 1h: Sunday December 18th, 4:00pm
Day 1i: Sunday December 18th, 7:00pm
Day 1j: Sunday December 18th, 10:00pm (Turbo)
Day 2: Monday December 19th, 7:00pm
Day 3: Tuesday December 20th, 7:00pm
Day 1 blinds increase every 15 minutes for Turbo flights and 20 minutes for regular flights. Day 2 blinds increase every 30 minutes. Day 3 blinds increase every 45 minutes.
Each "Day 1" starting flight will play until 10% of the field remains. Day 2 will restart at the lowest blind level during which any Day 1 was completed and will play for 11 levels. Day 3 will play until there is a winner.
A player may play additional Day 1s even if he/she has survived a previous Day 1. If a player survives more than one Day 1, the player's largest stack will move forward to Day 2 and all other chips will be removed from the tournament. Players who qualify for Day 2 multiple times will receive $300 for each forfeited qualifying stack.
Players may not re-enter during any Day 1 they have already played; they may only re-enter the tournament on a subsequent Day 1.
3% of the prize pool will be withheld as staff gratuities.