Day 2 of the Playground 200 is in the books. From a starting field of 157 players, only 23 survived the 10 levels that were on today's schedule. These players will be back tomorrow night for the conclusion of tournament and the Power Weekend.
The last moments were quite dramatic. First, Isham Yamani lost a 1M pot to Aex Barbosa in a heartbreaking fashion:
Yamami: 



Barbosa:


Board:





The turn came like a thunderstorm, and Yamani was left with about 2 big blinds, 3 hands before the end of the day.
He folded one, then committed from the under-the-gun position. Both Bao Ngoc Phu and Brigitte Métivier tagged along, even creating a bit of a side pot. On the flop, Phu checked the action, and Métivier bet out strong. Phu raised all-in, which was met by a swift call.
Métivier: 



Phu: 



Yamani:


Board: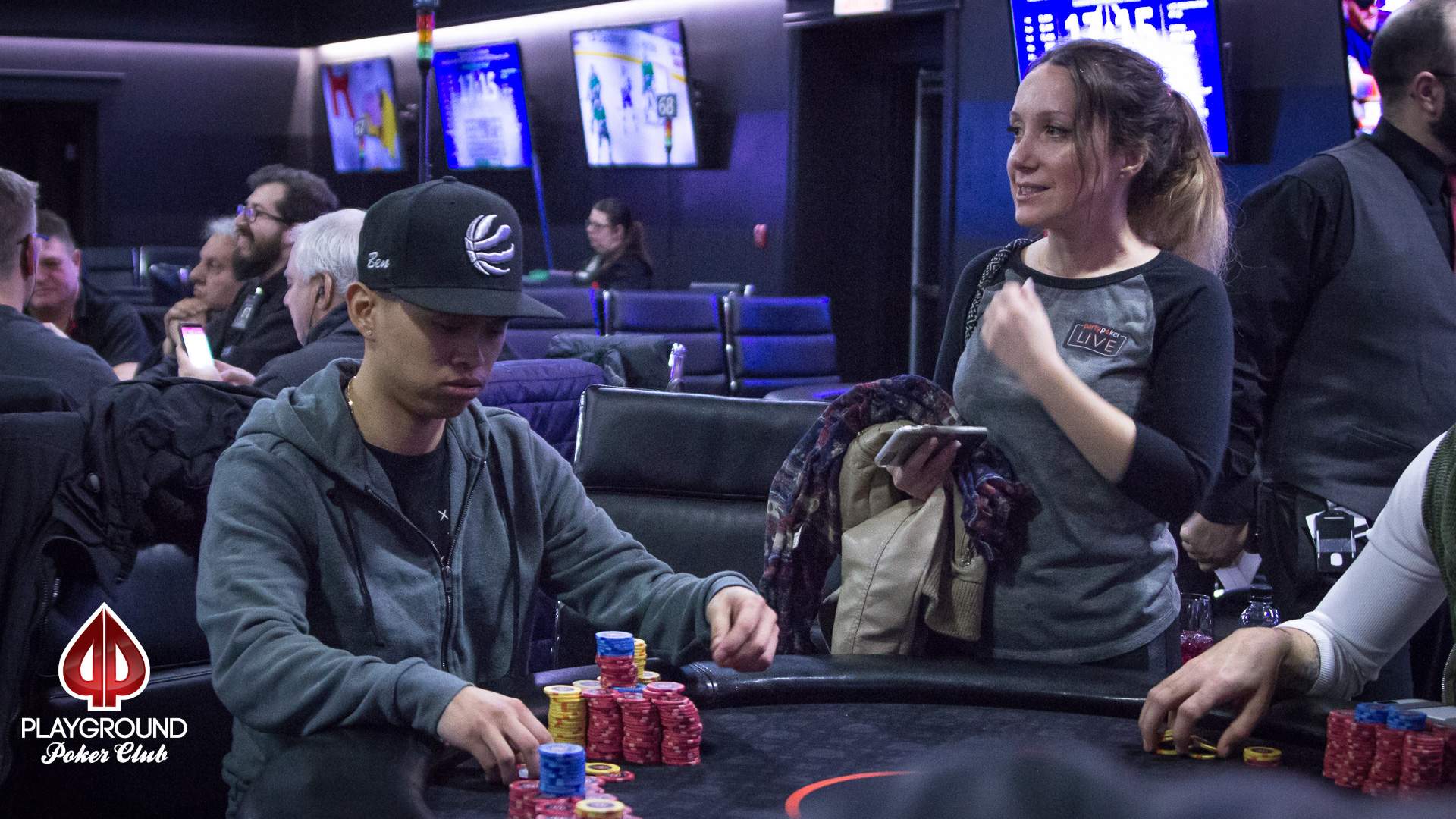 Brigitte was thus eliminated one hand before the end of Day 2, while Isham chopped the main pot to stay alive. He then got a walk, and will be back tomorrow night.
Joël Giguère will be starting Day 3 with a crushing stack of 1,810,000 chips. The full counts and seating draw for Day 3 will be posted momentarily. Here is the millionaire's club:
| First Name | Last Name | Chip Count |
| --- | --- | --- |
| Joël | Giguère | 1,810,000 |
| Bao | Ngoc Phu | 1,345,000 |
| Robert | Dagenais | 1,305,000 |
| Grant | Ellis | 1,245,000 |
| Alex | Barbosa | 1,220,000 |
| Makan | Salimi | 1,145,000 |
| Co | Tran | 1,110,000 |