Event #6 of the WSOP-C Playground, the $2,000 + $200 High Roller, was a huge success that surpassed all expectations. There was a relatively short Day 1 that saw only eight levels of plays but drew a healthy turnout nonetheless. 112 players were survived to play Day 2, but the structure allowed for four levels of late registration and re-entries to start the day which let the field to grow to 288 entries. The huge turnout brought the prize pool to beyond double the $250,000 guarantee. 
The top 39 finishers walked away with some profit from this event, but everyone was hoping for the champion's six-figure prize, WSOP ring, and lifelong bragging rights as a WSOP Circuit Event champion. But attaining those goals would end up taking more skill, patience and determination than anyone would have expected.
The field was full of top-tier talent, and play on Day 2 lasted for more than 23 45-minute levels. So it turned out to be a marathon grind through a challenging field, and the champion clearly earned the spoils of victory.
At the final table, several different players took turns in the driver's seat, as the chip lead changed hands numerous times. Ruben Perceval, a well-known local player with several big tournament cashes to his name, arrived at the final table with the largest stack in play. He ran hot in the early going but ran out of steam midway through the final table. Raymond Latinsky, who started the final table relatively low on chips, emerged as the chip leader following a three-way all in where he was lucky enough to have his pocket aces hold up against two opponents.
After Perceval's elimination in fifth place it came down to Latinsky, David Baba, James George, and Kristen Bicknell. At this stage, the blinds had reached 125K/250K, leaving little room to maneuver given the size of the stacks in play. After a failed attempt at negotiating a four-way deal, play resumed. Both Baba and George found ways to gradually increase their stacks while taking few risks, and Baba rose to the top with a narrow chip lead. Bicknell was the next player eliminated when her


lost to Baba's


following a pre-flop all in.
After Bicknell left the final table, the three remaining players agreed to chop the remaining prize pool. The deal saw each player lock up a hefty pay day-$65,000 for George, $77,000 for Baba and $68,000 for Latinsky-with $10,000 remaining for the eventual winner to go with the coveted WSOP ring.
With so much still on the line, the players remained focused after the deal was concluded, and each continued the strong play that got them to this point. Baba doubled up George when the two got it all in before the flop; Baba had the best of it going in with pocket tens, but George, holding pocket nines, flopped a set to take down the pot worth nearly 12 million in chips. Baba returned to the chip lead a few hands later when he doubled through Latinsky in a classic race where Baba's pocket eights stood against Latinsky's ace-king. After that point, the three players traded small pots back and forth while Latinsky gradually grinded back his chip lead. As level 31 was winding down, two big hands collided between Latinsky and George, and the two were all in pre-flop. It was


for George and


for Latinsky. It looked like a lock for George on the



flop but Latinsky went runner-runner thanks to the

and

to river broadway and eliminate George in third place.
It looked as though the heads-up battle would be over before it truly started when the two players were all in before the flop on their second heads-up hand, however, Baba's


connected with the board to give Baba a pair and best Latinsky's


. After that hand, the two finalists traded blinds back and forth for quite some time. Eventually Baba tried to take Latinsky off a hand with an all in raise, but Latinsky was not about to back down from his pocket pair and the chips went in pre-flop. In the end, Latinsky's pair held up and he claimed victory. Congratulations!
High Roller Champion: Raymond Latinsky, $78,000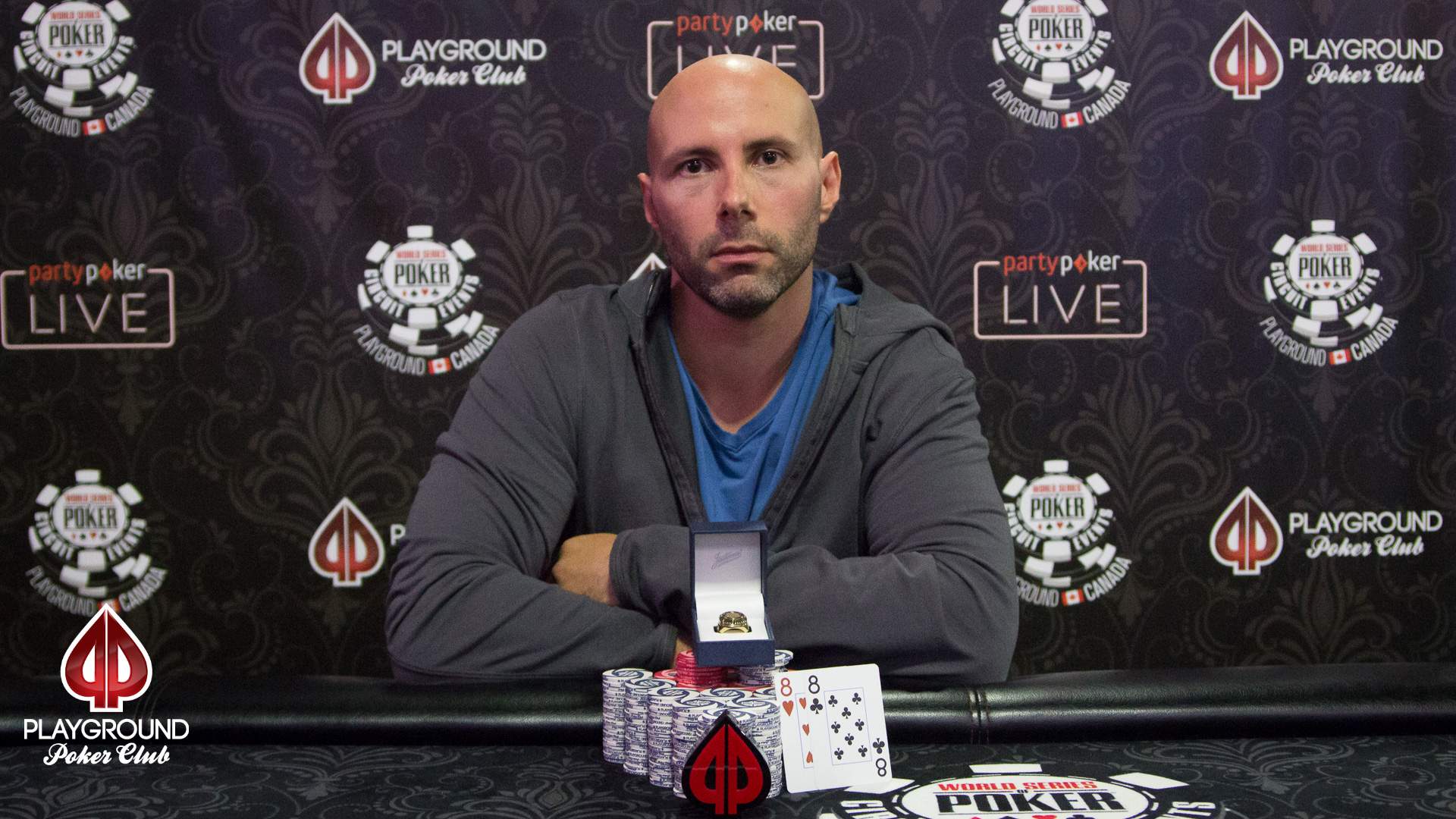 Last Hand of Play: