Event #8, the $60 + $10 NL Hold'em Single Rebuy, brought a field of 70 runners, enough to easily surpass the $3,000 guarantee for this event. The action was predictably aggressive for this type of tournament, but only 13 players took advantage of the re-buy option.
Play at the final table was particularly snug, but things opened up once the blinds reached 8K/16K. Following a flurry of eliminations that quickly reduced the field to three players, Victor Soumis, Brigitte Metivier and Normand Plessis Belair, who agreed to an ICM chop of the prize pool. Although Soumis had controlled the biggest stack for a large part of the final table, by the time negotiations had started Plessis had taken over the chip lead and got the lion's share of the prize pool according to the ICM chop.
Not long after the chop was concluded, Soumis hit the rail as a victim of unfortunate timing. Soumis moved all-in from his button during three-handed play, and Metivier, who had warned him that she would defend her blind without looking at her cards, woke up with aces and made the snap call. Soumis'


came up short even though he managed to make two pair, as the low card on the board paired, counterfeiting his hand and giving Metivier the win with aces-up.
The heads-up battle between Plessis Belair and Metivier began with the two playing nearly the same amount of chips, but Plessis Belair ran hot and soon found himself with a 3:1 chip lead. From there, Metivier started turning up the pressure with a series of pre-flop all-ins, forcing Plessis Belair to fold each time. But before long Plessis Belair woke up with big slick and was waiting for Metivier to move all-in, making the snap call when she did. Metivier found her hand,


, dominated and got no help from the board, giving the win to Plessis Belair. He collected an additional $300 for the victory, on the top of the $1,066 from the ICM chop. Congratulations!
Event #8 Champion: Normand Plessis Belair, $1,366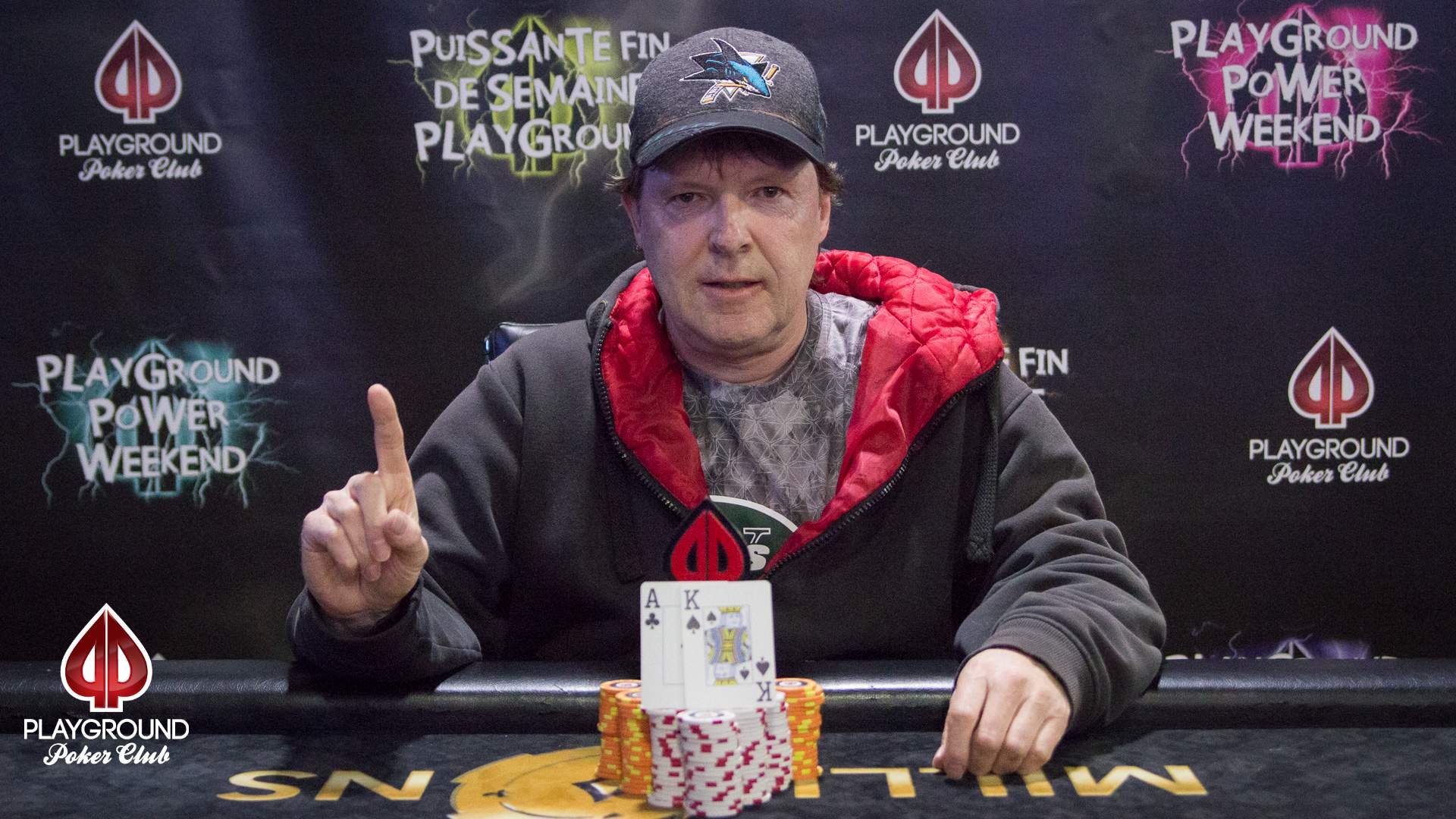 Last hand of play: